We started this post on the day of the arrival of our amazing group "50th Birthday Trip", with everything ready to they enjoy their holidays and we going to pick up them, in our private and exclusive transport, at Malaga in the AVE Train Terminal on "María Zambrano" Station coming from of Madrid, after a very long flight that brought them from the west coast of North America where they start their Adventure Journey in Starlite Marbella.
Our first meeting was a shy "Hi, Hello guys" to each and every one of the group, you could feel the fatigue of the long trip to their adventure in Andalusia, but I felt in the environment of these friends the desire to have fun.
On the way from the AVE in Malaga until we arrived at the Hotel 4 Stars of Fuengirola, they could admire the different towns that were presented before them, and that as coordinator of Spainventure, I charged to explaining what each one was and some particularities of the white villages of the sierra, while to our left, they marveled with the views of the Mediterranean Sea that was going to be part of their daily scene and host of one of their adventures.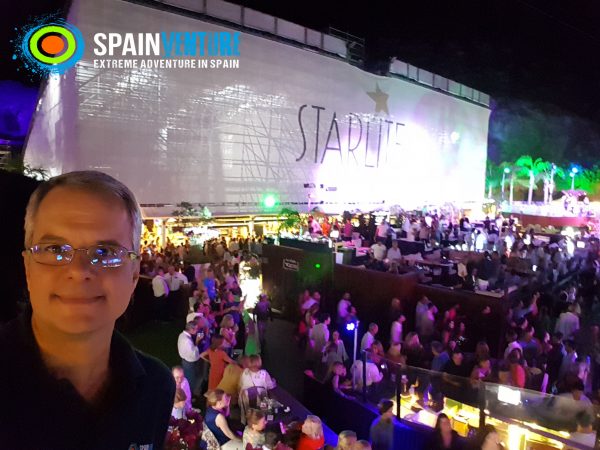 Once we arrived at the Hotel, and after his check-in, We´ll were to meet later, at night, to start his first adventure of the "50th Birthday Trip" … we went to a private dinner at Starlite Marbella, at his closing party season, they could not imagine what they would enjoy and find themselves after a restful nap at the hotel.
---
# Could Be Interested in the 1st Part of 50th Birthday Trip
---
Punctually at 9:30 p.m. we began to meet in the lobby of the Hotel and, while we were waiting for the rest of the adventurers to arrive, this amazing group of friends were interested in watching the live broadcast of "La Liga" of Spanish Football, asking me about particularities of the same and enjoying the goals of Atlético de Madrid. Once we were all together we got on our transport and left at 10pm to our final destination, the Starlite Marbella, tonight was the recital of the recital of Melendi, a famous Spanish singer.
It was to arrive at the exclusive Starlite Marbella, a quarry converted into a show and party area, located in an exclusive residential area of Marbella, a few kilometers from Puerto Banús, to start hallucinating, with everything ready for an unforgettable night and, While we waited for the area of our exclusive dinner to be ready, our group began to relax, they began to show that character that was perceived as soon as they arrived, they demonstrated a friendship that distances do not break, but surely strengthens … they live in North Carolina and others in Los Angeles … the first drinks are served in the reception bar, and the "funny momments" starts among them, talking about everything, commenting on every detail they observed, and hallucinating !!.
Once they call us to sit down for our dinner, near 11 PM, we approach the location were spainventure chosen, the balcony in front of the Fiesta Stage, bars, VIPS, from where we had the panoramic of the party, a privileged area , chosen according to the group that deserved this dinner-buffet.
It was there that the ice broke and I began to "enjoy" my work as coordinator of this fantastic group: each member of the "50th Birthday Trip" told me personal things, and I discovered that one of them spoke Spanish, not much, but he had good Mexican accent and it was nice to see how he tried to make himself understood … medicine, finance, engineering, tourism and other types of professionals made up this homogeneous and amazing group of friends.
This incredible group did not understand how it was possible for people to sit at dinner at 11pm and then continue celebrating until late… everyone laughed … and they loved this Spanish way of life … this question was maked me for each member of this amazing group, hallucinating and enjoying to the fullest.
Once the dinner was over, the Starlite Marbella farewell party began, it was a surprise for the group, with a show with music, lights, dance groups and a lot of party !!!: from our exclusive location we could enjoy every corner of Starlite Marbella , the group did not lose sight of all the details of the party that was shown in front of them, their faces show me that they were happy and delighted at the time they lived with their friends on their "50th birthday Trip".
To finish our dinner started a DJ session that would last until the early hours of the morning, but we would not enjoy it, the fatigue of the trip was remarkable, so we went back to the hotel to rest and prepare for the next adventure that would start the next day, in a few hours maybe …