CANYONING AT RONDA
Leaved from the Guadalhorce Valley with its citrus trees – after enjoyed a Trekking at El Caminito del Rey -, to the Serranía de Ronda to enjoy an amazing experience "Canyoning & Rappeling at Ronda", with their olive groves that will accompany us from the first moment generate a contrast that Brian & Celine greatly enjoyed and its helped them fall in love with this fantastic area of ​​Andalusia.
Almost 1 hour trip from El Caminito del Rey to will realize Canyoning & Rappeling at Ronda Town, in the area of ​​the Arab Baths, in the Lower part of the town, in a quiet area of the Guadalevín River, which will be our host of adventures. We arrived early with a margin of 30 minutes where Brian and Celine, fantastic protagonists of this adventure, can know a little bitte of the town, touch walls and keep in their feellings-closing their eyes- the history, transporting them to past times … emotion to the touch, history at every step, and in an environment that invites to know more about andalusia.

THE EQUIPMENT… OTHER ADVENTURE
Equipping to do Canyoning is other kind of adventure, in the shade, but with a hot that embraces you, putting on the wetsuit is a challenge !!!, special footwear, ropes, backpack, and all the material for this adventure is a process of almost 30 minutes that they enjoyed with smiles at every moment … the anxiety of the beginning of the adventure was noticed …
Instructors and Adventurers go to the riverbed, in front of the wall that protects the Arab Baths "to put your feet in water", the adventure began to be "wet."
---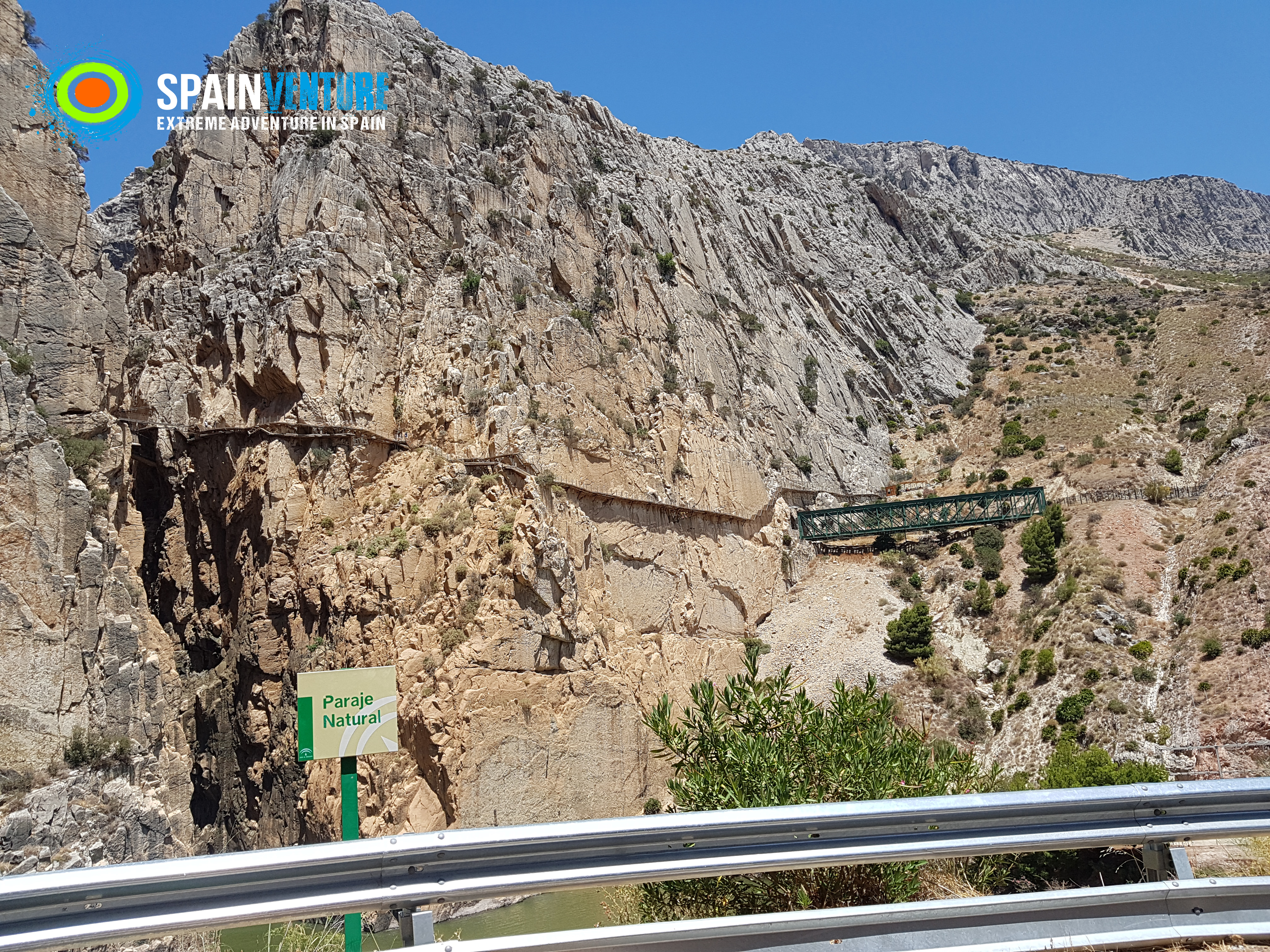 # El Caminito del Rey awaits them
---
After knowing and does trekking at the El Caminito del Rey they will are ready to practice Canyoning & Rappeling at Ronda, is an amazing activity, but if you do it in a town like Ronda -Malaga Province- it is even better; walking along the Guadalevin River, passing under the Roman Bridge, swimming under the vertical walls that house the city, offers us a totally different perspective: fresh water up to the neck, mosses, fallen tree trunks, and finally we reach the " New Bridge ", being under it is another kinf of a show, what amazing views !!!
CAMINITO DEL REY, CANYONING & RAPPELING AT RONDA
And finally we arrive at our first wet rappelling, 30 meters down with the water hitting on their helmets: with all the safety measures ready we tighten ropes and wait for the instructors to start off rappelling and hallucinating with this fantastic waterfall, a jump awesome reserved only for a few adventurous!!!
Our destination is a natural pool of fresh and transparent water that invites us to continue our adventure to a natural "slide", worked by nature over the years, and that allows us to glide through it as children … short slides but very interesting .
After 2 ½ Hours we arrive at our "Grand Rappel", 35 Meters that seem to have no end !!! … due to the extreme safety measures of our instructors we make this rappel through the dry area, we will avoid, in this case, risk more than necessary.
Rappel of 35 meters of Cantilever, that the final destination is in an amazing pool, and with 20-30 people watching them – as luxury spectators – from the stones located in front of this waterfall generate even more energy and the adrenaline runs full for their veins … an injection of emotion and vertigo that makes you enjoy even more, if that were possible at this point, this final part of the adventure.
They jump to the final pool, and begin to swim a stretch to reach the shore to walk the last 400 meters of their adventure "jumping from stone to stone" until they arrive, after 3 Hours, where our coordinator and part of the team of Canyoning awaited with a final picnic where we took the opportunity to exchange our experiences & impressions with some very cool drinks that help us lower the temperature around us and let the adrenaline return to normal levels.
---
After almost 6 Hours of Adventure -Caminito del Rey, Canyoning & Rappeling at Ronda- we finish up exhausted but so happy and with the goal met "Adventure, Fun and Vertigo", a combination that makes you crazy with pleasure.
---